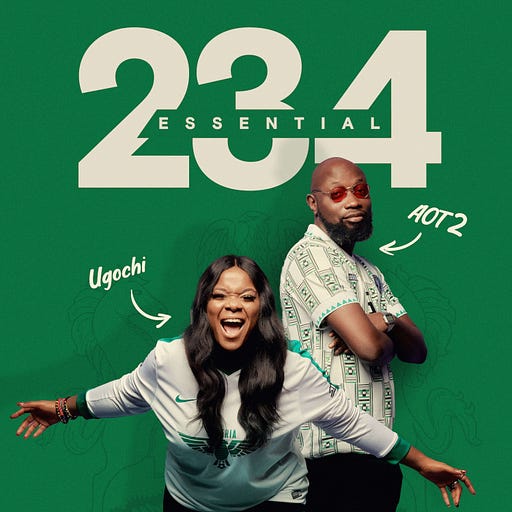 May 3 • 1HR 46M
Charging Port Sub
Join AOT2 and Ugochi on their wild journey as they discuss everything Pop culture, music, movies and more. 234 Essential focuses on Nigerian pop culture but goes beyond trending topics on social media. It looks at the bigger picture and provides accurate historical and societal context to what is trending online. 234 Essential Podcast is another podcast original from Global Village. For fan mail: fanmail@234essential.com For ads: info@globalvillage.studio 234 Essential on Twitter 234 Essential on Instagram
Citizens of the 234!! 🙌🏿
Hey guys!
Hope you're doing great! Its another month of May and you're still rocking with us! Whoop whoop! Thank you🫶🏾, Izz going! Happy workers day to All our amazing listeners(Your hustle go pay, no fear!). To our family of listeners and readers in Nigeria, shey una dey feel the holiday abi you no dey feel am?? Lool! Because na back- to -back dem dey give us so oo! Use am relax abeg.
To our 234 fam in the UK, hope bank holiday was good, as una dey mark-time till the coronation of Prince Charly, make una dey try, the work must everly pay. To the family in the second and fourth largest countries in the world, Canada and The US of A, una no dey rest normally and holiday still far, make capitalism no rake una sha, ji si'ike, be strong, no fear! Better days ahead.. lool use this new episode hold body first, dey CHARGED!
This weeks episode of your fav podcast, 234 essential podcast, Charging Pot Sub, is actually packed and funny. Here's the thing, we manage our pain with humor.. else! AOT2 and I discuss the importance of a health plan as an adult and the benefits of a using WellaHealth's effective Healthcare plans, seamless remittance, telemedicine initiative, reliable customer service and WellaHealth's reach across the 36 states of the country www.wellahealth.com/234e . Update on the war in Sudan and the ordeal of Nigerians in Sudan, Lagos trademark traffic and loadssssss more! It's a 2hour + episode so you know the vibe!! Is Nigeria's response time to its Citizens in the diaspora quick enough? Why are African leaders so lax when it comes to matters of its citizens? Let's know your thoughts by sending fan to fanmail@234essential.com, share your insights with Us.
Tweet of the week was double this week cause we needed to go ham! Flop and prop of the week per usual annnnnndddddddd drum rolls RELEASE THERAPY came in the mail!!! Some essentialists have found love while the other questions it.. the old wives tale of love found and love lost, sigh.. but Daddy GO CBIC, the Dr himself Esq, came with words on marble per usual and my necessary input of course 😌😌
Thank you for signing up for our newsletter and following us on All social media platforms @234essentialpodcast, y'all are the REALEST🥹👏🏾✨. Please from here now, if you haven't already, follow us on All social media platforms - IG and Twitter- @234essentialpodcast. Let's make it a date here. Thank you for subscribing. Don't spam us, please🥹
I low key enjoy writing this. Feels like a "Dear diary" moment for me lol.. Let's see how my writing improves,shall we? 😉
Stay safe, stay kind.
Regards,
Ugochi, The Igbo Stallion.