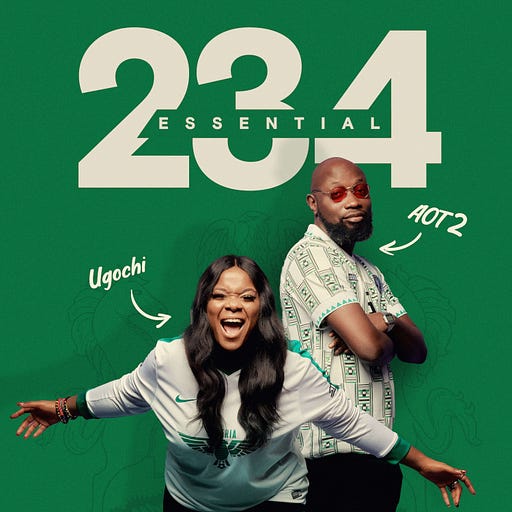 Mar 16 • 2HR 5M
The Fan Mail
Join AOT2 and Ugochi on their wild journey as they discuss everything Pop culture, music, movies and more. 234 Essential focuses on Nigerian pop culture but goes beyond trending topics on social media. It looks at the bigger picture and provides accurate historical and societal context to what is trending online. 234 Essential Podcast is another podcast original from Global Village. For fan mail: fanmail@234essential.com For ads: info@globalvillage.studio 234 Essential on Twitter 234 Essential on Instagram
You guuuyyyyysss!!!
Omo! It's been a week and a half with this our "Naira pandemic" but I've been maintaining my fine girl, can you tell?? Lol hope you all have been good too.
This weeks episode of 234 essential podcast, The Fanmail, is certainly going to have you clenching to your seats in the wake of different emotions lool, depends on which you channel(find out which emotion did it for me). Your fav duo spoke on the naira scarcity, 7days after the Supreme Court had ruled and the CBN's silence, Sanwo-olu's "different" campaign strategies and lots more! Flop, Prop of the week and finally after many heartbeats and breaks, Release therapy! Release therapy this week is a delicate one, please listen, a fellow essentialist, needs our help! inserts superhero theme song.
If you're reading this, it means you've done the right thing by subscribing to our newsletters and obvs, you're getting first dibs into 234 essential content and ofcourse, a personal note(in form of this newsletter) from your favourite co-hosts of the 234!!😌😌
Please encourage your friends and loved ones to subscribe, follow us on all social media platforms @234essentialpodcast and ofcourse send fanmail and release therapy to fanmail@234essential.com
Have an amazing week, remember to remain kind. Thank you for rocking with us, per usual, on 234 essential podcast.
Stay with us guys.
Ugochi, The Igbo Stallion.