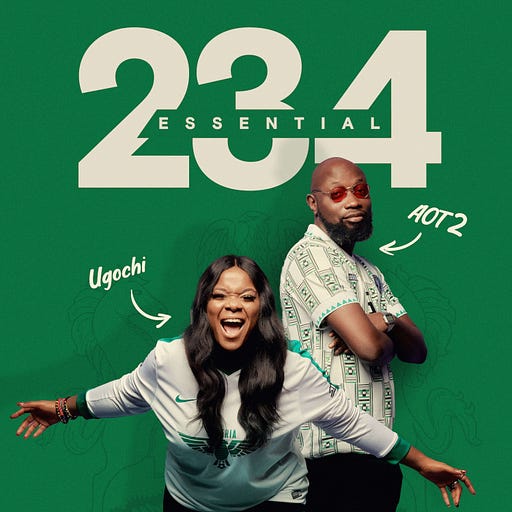 Apr 25 • 2HR 2M
The REAL Estate
Join AOT2 and Ugochi on their wild journey as they discuss everything Pop culture, music, movies and more. 234 Essential focuses on Nigerian pop culture but goes beyond trending topics on social media. It looks at the bigger picture and provides accurate historical and societal context to what is trending online. 234 Essential Podcast is another podcast original from Global Village. For fan mail: fanmail@234essential.com For ads: info@globalvillage.studio 234 Essential on Twitter 234 Essential on Instagram
Hello!
I hope this message finds you well. I wanted to let you know that a new episode of your favorite podcast, 234Essential , will be released tomorrow and you are the first to listen to it.
In this episode, AOT2 and Ugochi discuss the Real Estate and money laundering news making the round and Buhari's "Forgiveness" statement . As always, the hosts Ugochi and AOT2 bring their unique perspectives and humor to the conversation,
Also we have Guest interview with Dr. Ikpeme Neto of Wellahealth Nigeria making it both informative and entertaining.
Flop and prop of the week per usual but no release therapy this week, AGAIN
Thank you for signing up for our newsletter, as promised, you're getting the VIP treatment as you are the first to get the pod before it drops. We would ensure to keep it fired up and engaging as usual. Also, please follow us on All social media platforms - IG and Twitter-  @234essentialpodcast.
As always, thank you for being a loyal listener and I look forward to hearing your thoughts on the new episode.
Best regards,
Nana