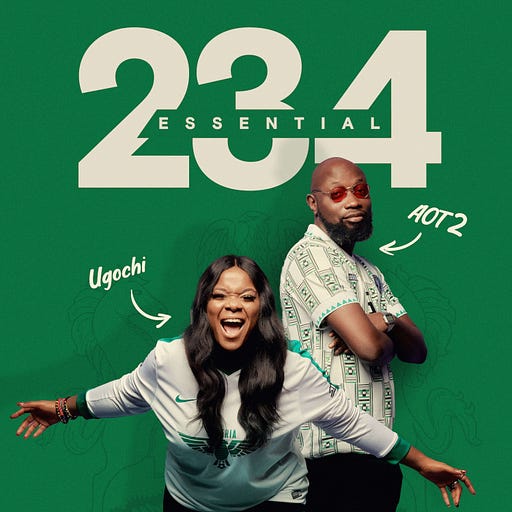 Mar 8 • 2HR 0M
The Polls Too
Join AOT2 and Ugochi on their wild journey as they discuss everything Pop culture, music, movies and more. 234 Essential focuses on Nigerian pop culture but goes beyond trending topics on social media. It looks at the bigger picture and provides accurate historical and societal context to what is trending online. 234 Essential Podcast is another podcast original from Global Village. For fan mail: fanmail@234essential.com For ads: info@globalvillage.studio 234 Essential on Twitter 234 Essential on Instagram
Hey Guys!!
Hope you are all keeping safe and sane, especially sane, in these times.. what a time to be Nigerian! Phew..
On this episode of your favourite podcast, The Polls Too, your dynamic hosts, AOT2 and I, discuss post presidential election results and the general iffiness of the country that came with a thunderous silence of the "8 million " plus people who had "voted" for the current president-elect, INEC's lack of preparedness for the February 25th presidential, HOR and senatorial elections and the current outlook for the Gubernitorial and HOA elections come March 11, 2023 with Lagos as focus. The bants focused on the tool of division; Tribalism. Our opinions on the Lagos state Governorship candidates and lots more! Want to know what we think? LISTEN to The Polls Too and join the conversation on our next episode by sending us fanmail to fanmail@234essential.com
The consultative expertise of the daddy GO himself was missing from this episode as there was NO release therapy (sighs..), Prop and flop of week came through as always(loveee ittt!) Still, we hope to read from you soon.
Thank you for reading through, composition was my favourite thing to write, but can you tell that I never understood the "short and concise" part? Lol.. you'll love me like that anyway.
Thank you for all your support and ofcourse, Stay kind 💕
The Igbo Stallion, Ugochi Anyanwu