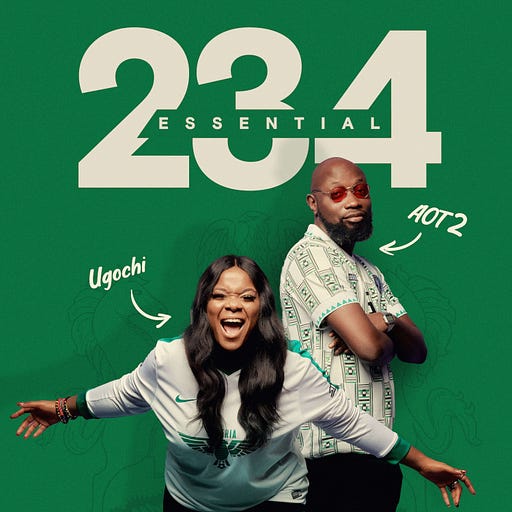 Jul 12, 2021 • 1HR 39M
Too Much Sex.
Join AOT2 and Ugochi on their wild journey as they discuss everything Pop culture, music, movies and more. 234 Essential focuses on Nigerian pop culture but goes beyond trending topics on social media. It looks at the bigger picture and provides accurate historical and societal context to what is trending online. 234 Essential Podcast is another podcast original from Global Village. For fan mail: fanmail@234essential.com For ads: info@globalvillage.studio 234 Essential on Twitter 234 Essential on Instagram
Episode Shownotes:
Ugochi talks about the Agbo market and its mixtures (8:65) while AOT2 speaks about the demise of Sound Sultan (15:20). He also speaks about the kind of questions that should be asked on a first date (26:10) and the southern governors demanding the next president be from the south (1:05:33). AOT2, Ugochi, Abe give accolades to Nigerian franchises that are still standing strong over years (1:17:05), and they talk about the flop and prop of the week (1:33:43).
For fan mail: fanmail@234essential.com
For ads: info@visualaudiotimes.com
234 Essential on Twitter
234 Essential on Instagram